Whether you're experiencing an acute kidney failure or you have chronic kidney disease, hemodialysis is one of the most effective procedures, and often the only recourse, to keep your kidneys operating until they're healed or you receive a transplant. To prepare for dialysis, you need to arrange for a dialysis shunt. This graft dialysis access is performed by a vascular specialist. Rely on the Astra Vein Treatment Center in Brooklyn, NY. Dr. George Bolotin is an Interventional Radiologist who's an expert in AV graft placement and arteriovenous fistula. To ensure your treatments go flawlessly, call the vein clinic as soon as you know you need dialysis.
What Is an AV Graft?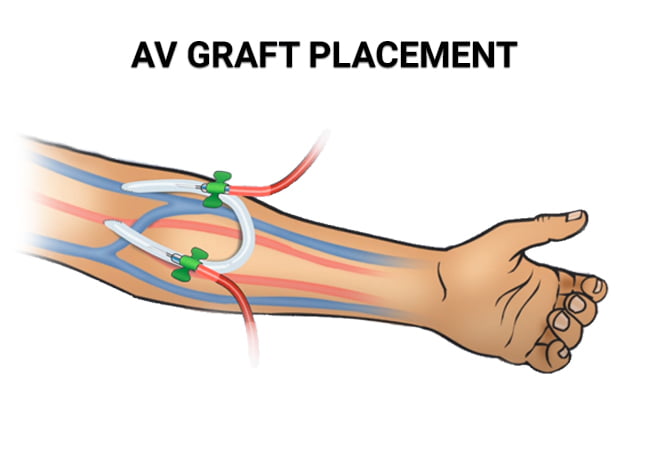 To manage end-stage renal disease (ESRD), you need hemodialysis, which requires vascular access. An arteriovenous graft, commonly referred to as an AV graft, is a process that your vein specialist in Brooklyn undertakes to prepare your blood vessels for a dialysis machine. The AV graft is made of a looped, hollow, synthetic tube that indirectly connects an artery to a vein. The AV graft dialysis access connects high-flow and high-pressure blood from an artery through the graft to the low-flow and low-pressure blood in a vein.
Effective hemodialysis requires a high blood flow rate because it needs to process a lot of blood. This is what a vascular surgeon achieves with the AV graft for dialysis access management. An AV graft for dialysis is ideal if you can't wait for a more long-term AV fistula creation, as that process can take months.
Before you can start dialysis, you need to set up vascular access. At the Astra Vein Treatment Center,  Dr. George Bolotin is an Interventional Radiologist who focuses on vascular conditions and procedures in Brooklyn. He provides vascular examination and dialysis access management, including AV graft and AV fistula placement.
How Is an AV Graft Placement Performed?
Rely on Dr. Bolotin and his staff to safely perform arteriovenous procedures. First, he determines the best vascular access for your ESRD treatment by reviewing the condition of your veins. If your veins are thin or weak, AV graft placement becomes an ideal alternative to AV fistula creation because nurses need to use needles frequently during dialysis, and weak or thin veins don't hold up well.
Recovery from an AV graft placement procedure happens quickly. In approximately two weeks, the AV graft is ready for hemodialysis. The steps involved in placing an AV graft typically entail:
Performing a physical examination of your veins and arteries to identify the most suitable blood vessel
Making a small incision at the proposed access site on your arm
Sewing the graft onto the selected artery
Tunneling the graft under the skin and creating a loop back to the incision, giving a dialysis specialist enough access to the graft
Connecting the graft at the incision to a vein
Ensuring blood flows properly from the artery into the graft and then into the connected vein
When Is an AV Graft the Best Vascular Access?
Both an AV fistula and AV graft provide access to your veins. Either is a lifeline for hemodialysis patients. The vascular procedures differ in a few ways, such as:
Access. An AV fistula is a direct connection between your artery and a nearby vein, while AV graft is an indirect connection between the artery and vein using a connecting tube.
Lifespan. An arteriovenous fistula becomes a long-term vascular access port for hemodialysis, while an AV graft usually lasts between two and three years, although it may last longer in certain cases.
Effectiveness. An AV fistula has minimal risks, such as soreness or swelling, while an AV dialysis shunt can lead to blood clots and comes with a higher risk for infection.
Your vascular specialist in Brooklyn helps you understand the difference before making a recommendation. There are a number of factors come into play when he's deciding which graft dialysis access is best for your specific needs. He bases his decision for one vascular access over the other after an examination of your veins and arteries. An arteriovenous graft dialysis shunt offers the best access for hemodialysis in situations that include:
You have small or weak veins.
You need to start dialysis soon.
You want a longer-term access than what you get with a catheter.
You need a vascular access option with quick recovery time and less downtime.
When Should I See a Vein Doctor?
If you need to start dialysis, doctors advise you to create vascular access as soon as possible to give the surgical access wound time to heal. You're able to smoothly begin your hemodialysis treatment once the AV graft for dialysis is working the way it's supposed to.
Visit the Astra Vein Treatment Center to get specialized vascular access solutions. Dr. Bolotin is an experienced vascular specialist who uses the latest medical technology to review the health of your veins. He chooses the safest graft dialysis access for the most effective hemodialysis. Contact the vein clinic today or ask your nephrologist for a referral before you're slated to start dialysis.
Dr. Bolotin and his staff at the Brooklyn vein center offer patient-centered care. He takes time to explain the vascular access options available to you. You can ask him any questions so that you can relax before the procedure takes place.
Dr. George Bolotin has either authored or reviewed and approved this content.
Vein & Vascular Medical Care
4209 Ave U, Suite A.
Brooklyn, NY 11234
(718) 222-0225