If you're undergoing tests to determine your fertility levels, you may find simple relief when you visit an Interventional Radiology specialist who focuses on vein and fibroid conditions at the Astra Vein Treatment Center in Brooklyn, NY. While fibroids can interfere with a woman's ability to conceive, varicose veins in the testicle area may be the culprit in men. Called varicocele, the bulging vein condition also may present painful or uncomfortable symptoms that a minimally invasive procedure called a varicocele embolization can fix. Dr. George Bolotin is an accomplished Interventional Radiologist who can resolve your fertility problems. Call now for an appointment today.
What Is Varicocele Embolization?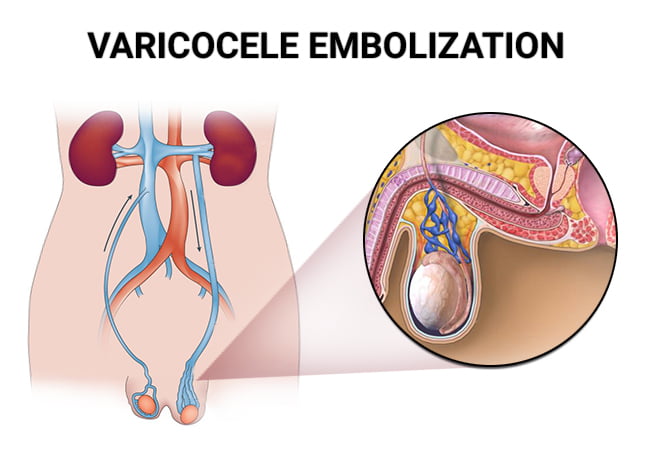 Varicocele embolization is a non-invasive endovascular procedure that's done to treat varicoceles, which are similar to varicose veins. Varicoceles are located in the loose bag of skin that holds the testicles, also known as the scrotum. The embolization procedure directs blood flow away from the enlarged veins to reduce swelling and discomfort.
Find a medical professional who's skilled in how to treat varicocele symptoms. Dr. George Bolotin is the founder and lead physician at the Astra Vein Treatment Center in Brooklyn. As a renowned Interventional Radiologist, Dr. Bolotin brings a high level of expertise in many different vein treatments,including:
The Brooklyn medical center also is home to the Astra Fibroid Treatment Specialists, where Dr. Bolotin provides extensive fibroid treatments  for women. Both varicocele embolization for men and uterine fibroid embolization for women rely on the most up-to-date technology for the diagnosis and treatment of these ailments.
What Are the Symptoms of Varicose Veins in Testicles?
When a vein in your scrotum becomes enlarged, it may or may not cause symptoms. While side effects can be very uncomfortable, it's wise to rely on a vein specialist because if left untreated, these enlarged veins can cause serious consequences. Symptoms commonly associated with varicose veins in testicles include:
A swollen testicle on one side, most often the left
A feeling of heaviness in the scrotum
Discomfort that may not be as bad when lying on your back
Pain that gets worse over the course of the day, while standing or during other types of physical exertion
Veins in your scrotum appear enlarged or twisted
There's no varicocele cure or method of prevention, but if the varicocele isn't serious enough for embolization or surgery, supportive underwear may help. Dr. Bolotin may find a varicocele that has no symptoms during a physical exam and advise you how to avoid discomfort, particularly if you're not worried about fertility.
Who May Need Varicocele Embolization Treatment?
Not all varicoceles require treatment. You probably don't need to have treatment if you're not experiencing any symptoms and aren't concerned about fertility. Dr. Bolotin may recommend varicocele embolization treatment if you or a family member experience:
Slowed testicle growth during the teen years
Pain and swelling of the testicles
Testicles of different sizes
The discovery of a mass in your testicle
A varicocele can interfere with sperm formation, movement and function. Varicocele embolization surgery is an effective treatment if you're experiencing infertility.
What Happens During the Varicocele Embolization Procedure?
A varicocele embolization is an alternative to varicocele embolization surgery. During this minimally invasive procedure, the steps may include:
Receiving medication to make you sleepy and relaxed
Getting an injection in your upper thigh to numb the area
Having a tube or catheter inserted into your groin
Undergoing x-rays or CT scans to guide Dr. Bolotin as he places the tube
Passing the tube into the varicocele and redirecting blood to other veins
If the procedure is successful, your varicocele disappears. You're able to go home the same day you have the embolization done. You need to take it easy for a day or two, but you can start exercising again within seven to 10 days.
Are There Risks to Having a Varicocele Embolization Procedure?
For most men, having a varicocele embolization is a perfectly safe procedure. Rare risks exist, but they're mitigated by relying on a vascular expert like Dr. Bolotin perform the surgery at his vein clinic in Brooklyn. Risks may include:
An allergic reaction
Infection
Excess bleeding
Inflammation of your scrotum or vein
Nausea
Lower back pain
Dr. Bolotin discusses your concerns and any other factors that may affect you, especially if you have other health conditions. He respects your unique situation, giving you the attention you deserve. As an Interventional Radiologist, he uses the latest technologies to resolve your health problems.
Where Can I Get Varicose Veins in Testicles Treatment?
Don't ignore signs of circulation problems or vein conditions. If you have vein discomfort or swelling, whether it's lower body vein abnormalities, hand or arm vein problems, or discomfort in your testicles or changes in their shape, you need to be evaluated by an expert in the field of vein diagnosis and treatment.
Your best choice for vein treatment is the Astra Vein Treatment Center. Contact your varicose vein doctor in Brooklyn today to get started with treatment as soon as possible.
Dr. George Bolotin has either authored or reviewed and approved this content.
Vein & Vascular Medical Care
4209 Ave U, Suite A.
Brooklyn, NY 11234
(718) 222-0225