Spider veins, those web-like veins that appear on your face or legs, aren't medically dangerous, but they are annoying and embarrassing. Fortunately, there are treatment options. Sclerotherapy for spider veins destroys the veins so your body can get rid of them naturally. The procedure doesn't create new spider veins and is completely safe and painless. For an initial consultation to see if sclerotherapy treatment for spider veins is right for you, call the Astra Vein Treatment Center in Brooklyn, where Dr. George Bolotin personally assesses your needs and recommends the most appropriate treatment for your spider veins.
What Is Sclerotherapy for Spider Veins?
Spider veins are red or sometimes purple web-like veins that appear on your legs or on your face. Sclerotherapy is a vein treatment used at a vein clinic in Brooklyn like the Astra Vein Treatment Center. This minimally invasive procedure treats spider veins and varicose veins. Sclerotherapy is a process that kills unsightly veins, but it's also safe, since:
Blood from the problem vein reroutes to a nearby healthy vein.
The procedure is performed in your vein doctor's office with local anesthetic, if it's needed at all.
You can walk out on your own immediately afterward.
The target spider veins, close to the surface of your skin, disappear in time.
Sclerotherapy treatment for spider veins also relieves any aches, pains, night cramps or burning you may feel from the veins. The needle used in the procedure is very small, perfect for treating spider veins and small varicose veins. When you visit the Astra Vein Treatment Center in Brooklyn, NY, vein specialist Dr. George Bolotin first diagnoses your spider veins and then recommends the best procedure to remove them, which may be sclerotherapy.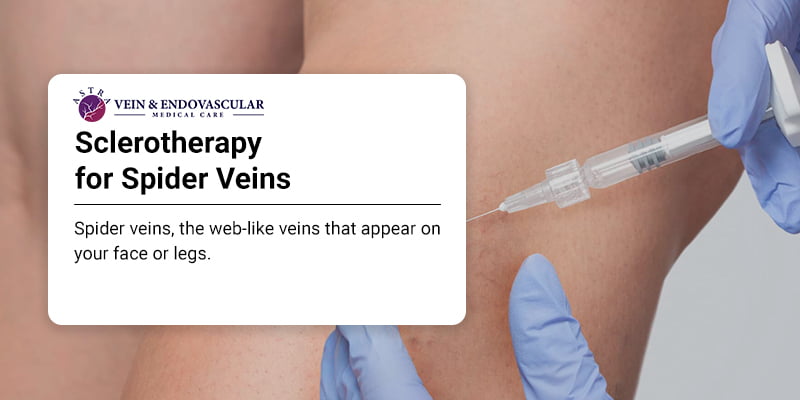 Do I Need to Prepare for Treatment?
Preparation for the procedure requires a consultation with your vascular specialist in Brooklyn, NY. Dr. Bolotin examines your spider veins and then takes a health history. You may need an additional test to confirm the diagnosis, but usually diagnosis is straightforward. If Dr. Bolotin recommends sclerotherapy for you, he requests that you take several precautions, such as:
You may have to stop taking certain medications before treatment.
Tell Dr. Bolotin if you've been sick lately and if you're taking any antibiotics.
If you're pregnant, you may be asked to wait for treatment until after you've given birth.
You may be given instructions for purchasing compression stockings for your recovery period.
You shouldn't use lotion 24 hours before or after your treatment.
You're asked not to wear jewelry the day of the procedure.
Wear comfortable clothing or shorts so your doctor can access the treatment areas easily, or you'll have to wear a gown during treatment.
With your permission, Dr. Bolotin may take pictures before and after the treatment. These photos allow you to see the changes in your spider veins more clearly. Most often, though, the real changes take some time to show, as your body slowly absorbs the treated spider veins, making them disappear.
What Happens During Sclerotherapy?
Sclerotherapy uses a tiny needle filled with a chemical solution that your vein doctor injects directly into your spider veins. The chemical causes the interior walls of the vein to become irritated and swollen. The walls collapse and close in on themselves in that location, causing the blood to clot and block the vein. While the treatment method is very different when considering laser vs. sclerotherapy for spider veins, the outcome is nearly identical.
Sclerotherapy treatment for spider veins averages just 15 to 30 minutes, depending on how many veins you're having treated in one session. This treatment does not require the use of any anesthesia, it's considered minimally invasive. After you check in at the vein clinic for your procedure, you experience a series of steps, including:
Your top vascular specialist at the Astra Vein Treatment Center asks you to lay down. If the veins to be treated are on your legs, they may be elevated.
Your skin at the needle insertion point is cleansed.
Dr. Bolotin uses a very fine needle to inject a solution directly into the spider veins. You may feel mild cramping or burning after each injection. It's a tolerable sensation.
Your vein doctor repeats the process for each targeted spider vein.
What Happens After the Treatment?
Side effects of sclerotherapy for spider veins are mild, and they're reduced when you rely on a vein specialist with Dr Bolotin's experience. Immediately after the treatment, your doctor recommends that you walk and move normally. After the treatment, your body simply re-routes the blood to healthy veins, so you can ensure proper healing by walking to avoid poor circulation.
You probably have to wear compression stockings after your treatment to limit bleeding and encourage healing. If you have many spider veins, you may need to go through several sessions to treat them all. There are also alternatives to sclerotherapy for your vein conditions, including endovenous laser ablation and endovenous radiofrequency ablation. Contact the Astra Vein Treatment Center for an initial consultation and an official diagnosis.
Dr. George Bolotin has either authored or reviewed and approved this content.
Vein & Vascular Medical Care
4209 Ave U, Suite A.
Brooklyn, NY 11234
(718) 222-0225