Finding out that your kidneys are failing and you need to begin dialysis is scary enough. The last thing you need to worry about at this time is how and where you'll find an expert who can properly prepare you for the daily lifesaving treatments that may continue for weeks or months. In order to provide proper dialysis, you need an access point all ready for the technicians to administer the treatments. Discovering the best access for your needs, then creating and providing you with that entry point is a specialty of the Astra Vein Treatment Center in Brooklyn. Dr. George Bolotin also provides ongoing dialysis access management as needed. Stop worrying about the technicalities and rely on the best in the field. Call today for an appointment.
What Is Dialysis Access?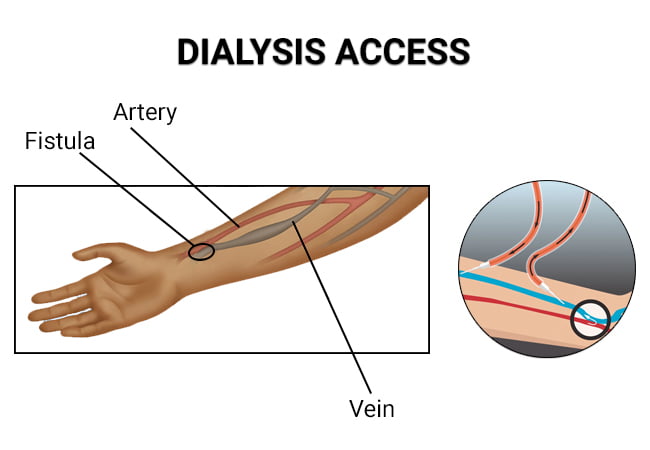 Dialysis access refers to a method used to reach the blood in your body to accommodate efficient and successful hemodialysis treatments. If you're living with end-stage renal disease (ESRD) or other kidney diseases, you need dialysis treatment to clean your blood. Vascular access methods provide access to the blood in your body, so it can be run through an external dialysis machine.
When your kidneys fail, your health care practitioner uses a dialysis machine to remove excess fluid and toxins from your blood. The filtered blood then flows back into your body, allowing optimal body functions. A well-functioning dialysis access point handles adequate blood flow for the most effective dialysis treatment while reducing the treatment time. It's a lifeline to treatment and good health.
Why Is Dialysis Access So Important?
Having the proper dialysis access is vital to your ongoing treatments in a number of ways, including:
Promoting a steady stream of blood flowing into the machine
Requiring very little maintenance, making your treatments easier overall
Making all the difference in your overall ESRD treatment, as well as your peace of mind and mental health
To receive the correct access processes for your unique needs, rely on an expert in the field of vascular diagnosis and treatment. At the Astra Vein Treatment Center in Brooklyn, NY, Dr. George Bolotin is an experienced vascular specialist, who uses the latest technology to review the veins and arteries. With a background in Interventional Radiology, he determines the best dialysis access for you.
What Are the Options for Dialysis Access?
Every case of ESRD is unique, so your dialysis access depends on several factors. These factors include the condition of your veins, as well as the urgency with which you need to begin dialysis. Dr. Bolotin has a number of dialysis access options to choose from, including:
Central venous access catheter (CVAC). This type of vascular access comprises a flexible, long, plastic, Y-shaped tube. Your vascular specialist makes a small incision in your neck, chest or groin to gain access to your bloodstream. The tube is then inserted through your skin into a central vein. This dialysis access option is necessary if you need immediate or emergency dialysis.
Arteriovenous fistula (AV fistula). This is a highly effective surgical access created by connecting an artery with a vein. The connection gives your patient care technician (PCT) access to high-pressure and high-flow blood for effective hemodialysis treatment. AV fistula is the most effective dialysis access. It's a low-risk, permanent solution for dialysis treatment. It does, however, take several months for the connection to mature for use in dialysis.
Arteriovenous graft (AV graft). An AV graft works for ESRD patients whose veins are weak or thin and for those who need dialysis urgently. Your specialist connects a tube to an artery and vein to get access to high-flow blood. The vein and artery aren't connected directly, and it takes several weeks to heal. When considering AV fistula vs. an AV graft, your doctor considers all your needs before making a recommendation.
Peritoneal dialysis catheter (PD catheter). Peritoneal dialysis differs from hemodialysis. It uses the belly lining and a dialysate solution to filter blood. You need a PD catheter for this dialysis access.
Once you get a diagnosis of ESRD, find the best source for a dialysis access procedure Dr. Bolotin, your vein specialist in Brooklyn, offers personalized attention to ensure you get the right dialysis access for your hemodialysis treatment. The team at this Brooklyn vein center has the expertise and technology to provide you with the best solutions.
What Does Dialysis Access Management involve?
Dialysis access management starts with the creation of a vascular access. Dr. Bolotin determines the best dialysis access after a physical exam and medical history. After the creation of the dialysis access, you may need other interventions and maintenance to keep the surgical access fully functional. Some types of tasks involved in dialysis access management include caring for your CVAC, AV fistula, AV graft or PD catheter.
When necessary, your vein doctor in Brooklyn may need to provide other dialysis access procedures, such as a:
Fistulogram
Angioplasty
Stent placement
Thrombolysis
Thrombectomy
If you notice any problems with your dialysis access, talk to Dr. Bolotin for immediate intervention. When the access doesn't perform optimally during dialysis, your treatment takes longer and may not be as effective.
For the best vascular access solutions and dialysis access management, visit the team at the Astra Vein Treatment Center. These specialists use cutting-edge technology for effective hemodialysis treatments. Contact the vascular specialists today to get the best solutions for your ESRD treatments.
Dr. George Bolotin has either authored or reviewed and approved this content.
Vein & Vascular Medical Care
4209 Ave U, Suite A.
Brooklyn, NY 11234
(718) 222-0225