What Is the Astra Vein Treatment Center?
This specialty medical practice in Brooklyn, New York, serves men and women with the most up-to-date technology. The facility is second to none, and the staff was hand-picked for their skills and warmth. The practice is a vein treatment center that also works alongside Astra Fibroid Treatment Specialists. The facility effectively ties these specialties together through one overarching technique called Interventional Radiology (IR).
IR is the practice of using imaging technology — such as x-rays, MRIs, ultrasounds and CT scans — to identify abnormal conditions in your veins and organs. Once identified and diagnosed, your doctor can then treat you through a variety of non-invasive and minimally invasive procedures. IR specialists are considered vascular specialists.
Dr. George Bolotin has either authored or reviewed and approved this content.
AAAASF - The Gold Standard In Accreditation
Astra Vein & Endovascular Medical Care located in Brooklyn have achieved full three-year accreditation through the American Association for Accreditation of Ambulatory Surgery Facilities (AAAASF)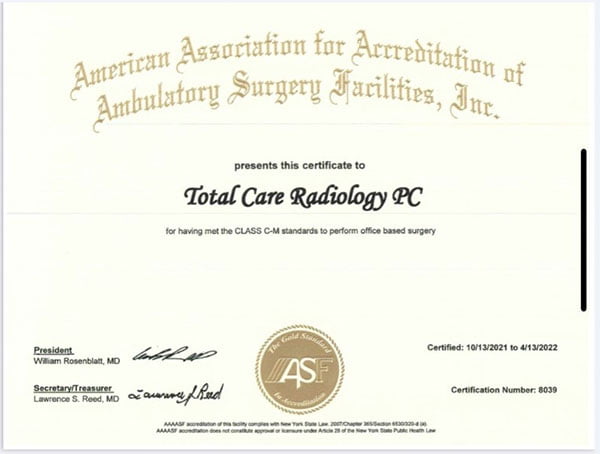 What does it mean for you? Accreditation means that Astra Vein & Endovascular Medical Care has met the highest national quality healthcare standards, provided exceptional patient care, and prioritized patient safety. Our facility passed the inspection by AAAASF stringent requirements for facility directors, medical specialist certification, staff credentials, and the most rigorous set of applicable standards available in the country. AAAASF awards official recognition to facilities that have met all of its stringent requirements.
Our Center
Our center offers a full range of treatment options and employs cutting-edge Interventional Radiology (IR) technology to reduce costs, recovery time, pain, and risk to patients. Board-certified interventional radiologists at Astra Vein & Endovascular Medical Care use medical imaging to guide minimally invasive treatments that diagnose, treat, and can cure a wide range of conditions including:
Dr. Bolotin always selects the best treatment option for your condition and always recommends the least invasive procedure first. His goal is to solve your vein problems in the shortest amount of time possible. Among the treatments available are:
For more information about the services we provide, treatments, or conditions we treat, visit the Astra Vein & Fibroids Treatment Center.
Vein & Vascular Medical Care
4209 Ave U, Suite A.
Brooklyn, NY 11234
(718) 222-0225