Any woman who's had uterine fibroids knows that they can cause havoc with your life. From heavy menstrual cycles and lower back pain to infertility and pregnancy complications, the side effects of the uterine growths are troubling. Until recent years, the only solution was to hope they went away or to undergo drastic surgery. Now you can get treatment for fibroids with a procedure called a uterine fibroid embolization or UFE. The UFE benefits outweigh the risks, which are nearly nonexistent. UFE is now the number one treatment recommended by fibroid experts like Dr. George Bolotin at the Astra Fibroid Treatment Specialists. Call today for a consultation.
What Is Uterine Fibroid Embolization (UFE)?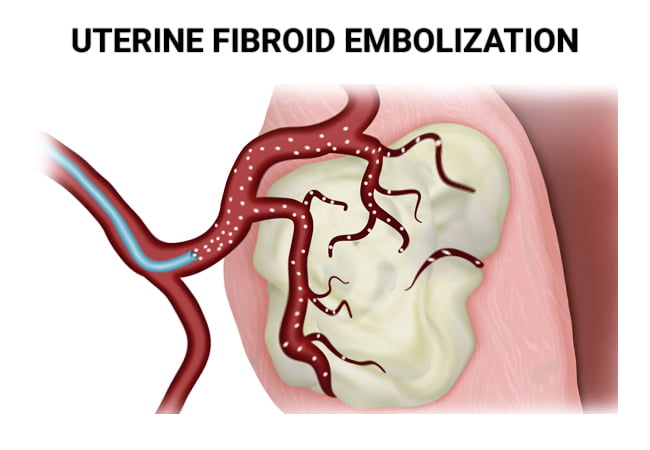 Uterine fibroid embolization (UFE) is an advanced, minimally invasive treatment for uterine fibroids.  This endovascular procedure is an alternative treatment for fibroid surgery, and it works without compromising your uterus. UFE is a safe outpatient procedure, during which your fibroids specialist places small beads in the blood vessels that supply the fibroid. The beads block the blood supply and cause the fibroids to die and slough off.
In the past, doctors had to resort to a hysterectomy to treat painful, disruptive fibroids, but that left women unable to conceive in their child-bearing years. One of the major UFE benefits is the ability of a woman to get pregnant safely after the procedure.
If you have a fibroid diagnosis, you can get safe treatments through UFE. At the Brooklyn-based practice of the Astra Fibroid Treatment Specialists, founder Dr. George Bolotin leads a highly qualified team that uses the latest medical equipment for diagnosing and treating fibroids.
 Why Seek a Specialist for UFE?
Almost 60 percent of the more than 600,000 hysterectomies performed in the United States are done to get rid of fibroids. A hysterectomy comes with a wide range of side effects, in addition to a result that makes it impossible to be able to bear children, including:
Early onset menopause
Long recovery period that lasts as long as six weeks
Depression
A reduced sexual drive
Risk of post-operative bleeding
Potential of developing cardiovascular conditions
If you have a diagnosis of fibroids, consult an expert in treating fibroids to get an opinion, a definitive diagnosis and treatment, including UFE, before you agree to an invasive procedure. Some UFE benefits include:
A UFE saves the uterus, unlike a hysterectomy.
UFE offers faster fibroid treatment, as the procedure takes less than an hour.
There's no need for general anesthesia.
It's a non-invasive procedure with no scarring.
It's an effective treatment for multiple fibroids at one session.
There's no use of drugs, as the fibroids shrink and die due to lack of blood.
UFE risks are minimal because no anesthesia is required.
UFE recovery is fast compared to other methods of fibroid removal.
You can expect no recurrence, as sometimes happens with surgeries like myomectomy.
Dr. Bolotin explains the procedure, the benefits, risks, post-recovery care and answers all of your questions before the procedure. He uses a patient-centric approach for fibroids treatment, and he has the most up-to-date facility and medical equipment to ensure positive results.
Who Is a Good Candidate for UFE?
Most women who choose UFE are still in their child-bearing years. They prefer to do everything they can to preserve their uterus and avoid pregnancy complications. Other factors that make you a good candidate for UFE include:
You want to avoid general anesthesia
You can't take blood transfusions for religious or medical reasons
You have small fibroids that haven't yet grown too large
You're otherwise healthy and have no infections
Dr. Bolotin uses a personalized UFE treatment plan, based on the results of a fibroid ultrasound and other factors, such as your age, life goals and overall health. Get an early diagnosis at the Brooklyn fibroids center whenever possible, so you can avoid more complicated interventions.
Who Benefits From UFE?
When caught early, uterine fibroid embolization shrinks fibroids before they cause severe symptoms. Any woman of childbearing age is at risk of fibroids and can benefit from UFE. Symptoms you can avoid include:
While the causes of fibroids  are unknown, certain types of women are at a higher risk of developing fibroids and benefit greatly from UFE, including:
African American women
Overweight and obese women
Women with a family history of fibroids
What Are the Alternatives to UFE?
While uterine fibroid embolization is highly effective, your doctor only recommends it after a thorough review of your symptoms. Depending on the results of your imaging tests, Dr. Bolotin may recommend:
Pain-relieving medications, such as non-steroidal anti-inflammatory drugs (NSAIDs)
Continued observation
Hormone treatments using Gonadotropin-releasing hormone (GnRH) agonists, progestin-releasing intrauterine device (IUD) or other child birth control methods
Lifestyle changes to reduce weight
Other minimally invasive procedures, such as radiofrequency ablation, uterine artery embolization or endometrial ablation
Fibroids affect your quality of life through severe symptoms, the high risk of infertility and pregnancy complications. You need effective treatment for these uterine growths before the symptoms worsen or fibroid degeneration occurs.
For cutting-edge fibroids treatment, visit the practice of the Astra Fibroid Treatment Specialists. Dr. Bolotin and his experienced team at the state-of-the-art facility use advanced medical technology such as UFE for the best outcomes in fibroids treatment. Contact the fibroids center today to book a life-changing appointment.
Dr. George Bolotin has either authored or reviewed and approved this content.
Vein & Vascular Medical Care
4209 Ave U, Suite A.
Brooklyn, NY 11234
(718) 222-0225